Claire's is a retailer of accessories and jewelry to girls and young women, created in 1961, with its head office located, in Chicago. As of October 27, 2012, Claire's has 3,469 stores in 36 countries.[1] Their stores are in 95% of all U.S. shopping malls, and also in the majority of British shopping malls.
Store types
Claire's Stores operates under two brands: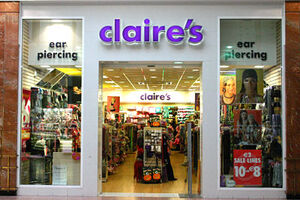 The majority of stores are of the Claire's store concept, and it is the only concept that operates outside North America. These stores are aimed principally at teens and tweens, and have a kid's section. They average about 1,000 sq. feet, are typically located in malls, and carry the widest selection of merchandise among Claire's brands.
[2]
Claire's merchandise is targeted at different age groups ranging from babies to young adults. Customers can find earrings, necklaces, bracelets, purses, hair accessories, and fashion accessories. Claire's stores are merchandised to accommodate these different ages, and fashion trends are manipulated to appeal to all ages.
The second brand is Icing. These stores are targeted towards young women aged 19–28. The merchandise has a higher price point, and is more mature. Most items are accessories and jewelry, but merchandise also includes items like candles, mineral-based cosmetics, and others. Icing typically does not offer licensed merchandise, giving the stores considerably less inventory, creating a less "over-stuffed" feel to customers.[3]
Other variations of these stores exist, such as an Icing store on Halsted Street in Chicago with marble fixtures and a more "boutique" styling.
Ear piercing
Nearly all Claire's locations offer ear piercing as all the staff are full trained in using the Studex 'gun'. Claire's has done more ear piercings than any other retailer, over 80 million in 25+ years.[4] Claire's does not pierce the cartilage of people under 13.
Merchandise
Claire's sells accessories such as costume jewelry, sterling silver and 14kt gold earrings, hypoallergenic earrings, hair accessories, purses, wallets, socks, tights, legwarmers, sunglasses, and hats. Claire's also sells notebooks, pens, and stuffed animals. The stores offer a wide variety of styles in their products, ranging from punk, gothic, emo, and rock chick to pink, glittery, and flowery items. Claire's merchandise is targeted at the fashion forward teen, tween, and young adult. Claire's merchandise directly mimics higher-end style trends.
Claire's encourages all members of store staff to wear its products, especially items of jewelry. Although not a specific requirement of employment, the company prefers female members of store staff to have pierced ears so that they can wear the company's earrings. Female members of staff who do not have pierced ears are encouraged (but not required) to have their ears pierced when they begin their employment, and are offered use of the in-store piercing service completely free of charge as an incentive.
References
External links