Born in Texas, Ramos studied dance from an early age, and after graduating from high school she relocated to New York City and studied at Joffrey Ballet Academy for a year and a half. Not too long after finishing her program there, she was soon cast in the broadway european musical production of "Black & Blue".
Film & Television
Edit
Ramos has appeared in numerous films, tv shows, and music videos. She has had the delightful pleasure of working with some of the top artists of today such as Will Smith , Enrigue Iglesias, P.Diddy, Paula Abdul, Faith Hill, Jessica Simpson, Toni Braxton, Jlo, and many others. Her film credits include, "Enchanted", "Rango", "Its Complicated", "Idlewild","Rent","Mr & Mrs. Smith", "Austin Powers- Goldmember", "El Cantante", "Enchanted", and "Dirty Dancing 2".T.v credits: Csi:Miami, Suddenly Susan, Latin Grammys, Martin, Soul Train Awards, American Music Awards, MTV Music Awards, Jlo NBC Special, Oprah, and Rosie O'Donnel to name a few. Tours: Earth Wind & Fire, Gloria Estefan, and Kevon Edmonds. Theatre: "In the Heights"(workshop),"The Wiz" (La Jolla Playhouse),"Mambo Kings"(San Francisco),"Black & Blue"(European tour), and "Chorus Line".An addition to all the dancing & singing, she also guest starred on tv shows such as "Side Order of Life","Reba", "For Your Love", and "Nikki".
Choreography
Edit
Along with working in television and film, Ramos can also add choreographer/assistant choreographer to her list in projects as: upcoming movie "Frankie & Alice" w/ Halle Berry, Earth Wind & Fire tour, music videos for Will I Am and up and coming artists such as Alex Kogan, Larisa Dolin & Kristen Toedtman, New Years Eve Spectacular (Atlantis Hotel in the Bahamas), 2009 Miss Universe, and on tv show "Eve" on NBC. Liz just finished her run as dance captain/ancestor in the broadway musical " The Addams Family" with Bebe Neuwirth and Nathan Lane." Working it into her busy schedule she also finds time to travel the world in teaching master classes on convention and studios for kids ranging from beginner to advanced.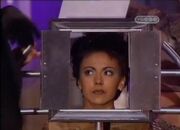 Magician's Assistant
Edit
Ramos was one of the Masked Magician's assistants in two of his television specials, and was the lead assistant for the Mismade and Dagger Head Box illusions. She and Diane Klimaszewski were paired for a number of illusions, being used to crush Michelle Berube in the Selbit Crusher, and to balance on Sybil Azur's arms in the Lady of Steel routine.
Ad blocker interference detected!
Wikia is a free-to-use site that makes money from advertising. We have a modified experience for viewers using ad blockers

Wikia is not accessible if you've made further modifications. Remove the custom ad blocker rule(s) and the page will load as expected.