Ellen Jane 'Ellie' Crisell
(born 19 July 1976 in
County Durham
) is an
English
journalist
and
television presenter
. Crisell currently works on the
BBC
's 8pm news summary, and as a relief presenter on the
BBC News Channel
. She was formerly the main presenter of children's news bulletin program
Newsround
on
CBBC
and
Newsround Extra
.
Biography
Crisell attended Dame Allan's Girls School, Newcastle upon Tyne, before going on to the University of Birmingham, then achieving an MA in Broadcast Journalism at London's City University.
Crisell worked for the Mail on Sunday for a year, and a year on radio. She then worked for the ITV regional station, Tyne Tees Television, as a reporter and newsreader for North East Tonight.[1]
Newsround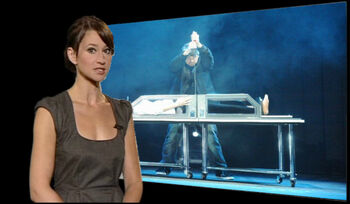 Ellie Crisell started as a
Newsround
presenter in February 2003 shortly after previous chief anchor
Becky Jago
's departure. Notable stories which Ellie was personally involved in reporting included the
2004 Indian Ocean earthquake
in which she traveled to
Indonesia
to see in person the effects of the disaster. She also traveled to
Athens
in
Greece
to give daily reports on the
2004 Summer Olympics
. In addition to serious reports, she also presented more light-hearted stories, including a report on the
Harry Potter
-inspired rise of magic in the UK that ended with her being sawed in half by a magician in an illusion called
Clearly Impossible
. Ellie has not presented Newsround since returning from
maternity leave
, and her profile has been taken off the show's website. Her final appearance was saying a farewell message to
Lizo Mzimba
whilst on maternity leave.
BBC News
On 12 September 2006 Crisell appeared on Newsnight, her first non-sports based appearance on BBC News adult-orientated output. She has also appeared on BBC One's breakfast news programme, BBC Breakfast, presenting news and updates from the Olympics in Athens.
In November 2006 Crisell started occasional presentation for BBC News.[2] In 2008, she was the main anchor for the 8pm News Summary on BBC One.
When she returned from maternity leave on 18 August 2008, she presented the morning BBC News updates during Olympic Breakfast. She returned in October 2008 to the 8pm news summary and as a presenter on the BBC News Channel.
Personal life
Ellie's father is Professor Andrew Crisell, a noted media academic at the University of Sunderland and author of Understanding Radio, while her mother is a judge. In 2007, Ellie married blogger and music journalist Chris Neadham, and they had one son, born in 2008, before they divorced. Early in 2015, Ellie had a second child with her fiance Ben Moore, and the couple married later the same year.
See also
References
External links
Ad blocker interference detected!
Wikia is a free-to-use site that makes money from advertising. We have a modified experience for viewers using ad blockers

Wikia is not accessible if you've made further modifications. Remove the custom ad blocker rule(s) and the page will load as expected.