Fires Within is a 1991 film directed by Gillian Armstrong. It stars Jimmy Smits and Greta Scacchi.[1]
Set in the Cuban community in Miami, the story revolves around the relationship between Nestor, a recently-released political prisoner, his wife Isabel, who had fled Cuba after Nestor was imprisoned, and Sam, the fisherman who had rescued Isabel from almost certain death at sea.
Production
Edit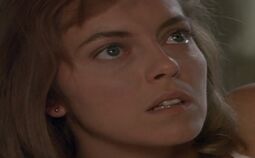 Because she'd never had them done previously, Greta Scacchi had to have her ears pierced especially for her role as Isabel, so that she would be able to wear the large gold hoop earrings favoured by many Cuban women. She later commented in interviews that "it felt very strange to have pierced ears and to feel those big earrings tugging at my earlobes and banging against my neck every time I moved. But when I was doing my initial research into the role after I decided to take it, I found out that all Cuban women have their ears pierced when they're little girls, and most of them wear big hoop earrings a lot of the time, so it would look a little odd if I didn't do the same. And it actually did help me get into character as Isabel, so it was definitely worth the slight pain of having them pierced in the first place."
References
Edit
External links
Edit
Ad blocker interference detected!
Wikia is a free-to-use site that makes money from advertising. We have a modified experience for viewers using ad blockers

Wikia is not accessible if you've made further modifications. Remove the custom ad blocker rule(s) and the page will load as expected.