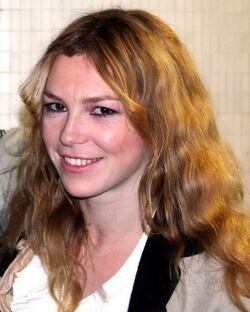 Honeysuckle Weeks (born 1 August 1979) is a British actress, best known for her starring role as Samantha Stewart in the British TV series Foyle's War, since 2002.
Background
Edit
Honeysuckle Hero Susan Weeks was born in Cardiff, Wales,[1][2] to Robin and Susan (née Wade) (who have since divorced),[3] and grew up in Chichester and Petworth, both in West Sussex. Her parents named her after honeysuckle flowers because they were in bloom when she was born. She has a younger sister and brother, Perdita and Rollo, both of whom have also developed successful acting careers.
Weeks was educated at Roedean School and Pembroke College, Oxford, where she read English (graduating with upper-second class honours). She also spent time studying art in Italy. As a child she was a member of the Chichester Festival Theatre's Youth Theatre.
She was engaged to Anno Birkin for a short period before his death, aged 20, in a car crash in Italy in 2001.[3]
In July 2007 she married hypnotherapist Lorne Stormonth-Darling, who is 16 years her senior.[3] They live together in London. The couple had previously been married in an impromptu Buddhist wedding ceremony while on holiday in the Himalayas in 2005.
Her acting career started with the juvenile lead in a television series (an adaptation of Anne Fine's Goggle Eyes, 1993, alongside Perdita); since then she has appeared in many programmes, including children's series The Wild House, and the long-running series Midsomer Murders and Poirot. In 1997 Honeysuckle and Perdita were both in Catherine Cookson's The Rag Nymph, where Perdita played the younger version of her sister's character. Her film roles include Anne Ridd in Lorna Doone (2000) and Sarah in My Brother Tom (2001). She also starred in The Bill in 2008 as Julie Nowak.
Weeks is currently best known, however, for her parts in three television series: Close Relations (1998), Ladies & Their Gentlemen (2002–2006) and Foyle's War (2002–2010). In the latter, a BAFTA-award winning detective series set in Hastings during and just after World War II, she starred opposite Michael Kitchen. In 2007, Weeks appeared as Tania Thompson in The Inspector Lynley Mysteries. Her character was based on Karla Homolka. In 2008, she appeared as Harriet Pringle in the Radio 4 adaptation of Fortunes of War and, in 2010, appeared as Eliza Doolittle in a production of "Pygmalion" at the Chichester Festival Theatre in West Sussex.
Awards and nominations
Edit
In 2004, Weeks was nominated in the Most Popular Newcomer category at the National Television Awards.
References
Edit
↑ Interview from official press release, September 2002, retrieved from www.foyleswar.com
↑

General Records Office - Birth registration index
Sources and external links
Edit
Ad blocker interference detected!
Wikia is a free-to-use site that makes money from advertising. We have a modified experience for viewers using ad blockers

Wikia is not accessible if you've made further modifications. Remove the custom ad blocker rule(s) and the page will load as expected.