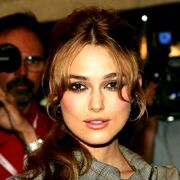 Filmography
2007 Pirates of the Caribbean 3 Elizabeth Swann Filming
2007 Silk Helene Joncour Pre-production
2006 Pirates of the Caribbean: Dead Man's Chest Elizabeth Swann Post-Production
2005 Pride and Prejudice Elizabeth Bennet Academy Award nomination - "Best Actress"
2005 Domino Domino Harvey
2005 The Jacket Jackie
2004 King Arthur Guinevere
2003 Love Actually Juliet
2003 Pirates of the Caribbean: The Curse of the Black Pearl Elizabeth Swann
2003 Bend It Like Beckham Juliette 'Jules' Paxton
2003 Pure Louise
2002 Doctor Zhivago Lara
2001 The Hole Frances 'Frankie' Almond Smith
2001 Princess of Thieves Gywn
1999 Star Wars Episode I: The Phantom Menace Sabé (queen's decoy)
Ad blocker interference detected!
Wikia is a free-to-use site that makes money from advertising. We have a modified experience for viewers using ad blockers

Wikia is not accessible if you've made further modifications. Remove the custom ad blocker rule(s) and the page will load as expected.