Mark Kalin and Jinger Leigh are an award-winning American magic couple known for large-scale stage shows and for appearances on network television specials.
Jinger is both an on-stage assistant and business partner to husband Kalin. In 1997, they formed Supreme Entertainment Productions and produced Before Your Very Eyes, a themed revue that played at Trump's Marina in Atlantic City, New Jersey. In 1999, together with comedy magician Jeff Hobson, they staged the magic-illusion show Carnival of Wonders.[1] The show won awards and prompted Magic Magazine to draw comparisons with Le Roy, Talma & Bosco.[2]

In 2001, Kalin & Jinger purchased the remaining company interest in Supreme Entertainment and formed a new company, Majikal Productions, employing the talents of magician and former Copperfield choreographer Joanie Spina and leading illusion designer Jim Steinmeyer. Steinmeyer developed several illusions for them. Their first venture under the new company name was Illusionarium at the Reno Hilton, in Reno, Nevada.[3] Their current projects include Magic Underground a dedicated magic venue in Reno.[4]
Kalin and Jinger have made numerous television appearances. They featured in the Gary Ouellet-produced World's Greatest Magic II in 1995[5], NBC's Hidden Secrets of Magic in 1996[6], and in The Great Magic of Las Vegas. On the 1998 network special The World's Most Dangerous Magic, Mark performed the "Table of Terror" (a "Table of Death" style escape).[7]
In 2010, Jinger featured in UK series Amanda Holden's Fantasy Lives, acting as a mentor to the host as she learned how to be sawn in half as a magician's assistant, and demonstrating a number of illusions.
Kalin & Jinger toured in the new international show The Illusionists, and featured in the UK TV special of the same name.
Awards
In 1998 Kalin & Jinger were voted magic's highest honor, Magicians of the Year, by the prestigious Academy of Magical Arts—Hollywood's Magic Castle. Other recipients include David Copperfield, Doug Henning, David Blaine, Lance Burton, Criss Angel and Penn & Teller.
Routines
Kalin & Jinger are associated with a number of illusions routines they have featured in their shows:
The Wakeling Sawing: a routine featuring a humourous interplay between the two as audience members restrain Jinger to a table with leather cuffs and cover her in a wooden box, before she is divided in half with metal blades.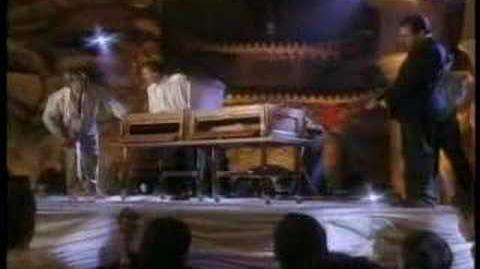 Op-Art: A Jim Steinmeyer illusion in which Jinger is compressed into a tiny cube, from which her head protrudes (Kalin & Jinger were the original performers).
Transfiguration: The startling transformation of Jinger into a black panther.
References
Further reading
Ad blocker interference detected!
Wikia is a free-to-use site that makes money from advertising. We have a modified experience for viewers using ad blockers

Wikia is not accessible if you've made further modifications. Remove the custom ad blocker rule(s) and the page will load as expected.