The Slicer is a stage illusion, originally designed by Franz Harary, in which an assistant is divided into nine pieces.
History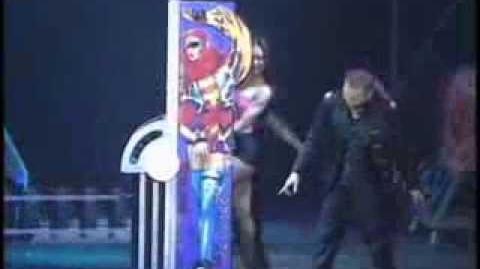 The illusion was designed in 1989, and featured in Harary's TV special,
Magic Rocks
.  It was designed by
Franz Harary
and originally built by
David Mendoza
's
Magiccraft
.
Adoption
The illusion was used by Janet Jackson for her "Rhythm Nation" tour in 1990, and featured by David Copperfield in The Magic of David Copperfield XII: The Niagra Falls Challenge the same year. Harary released it to general sale, and it was quickly adopted by different illusionists.
Siegfried and Roy were early performers of the Slicer, and it featured in their German TV show Siegfried und Roy im Wintergarten des Phantasialandes in 1991.
The illusion first appeared on UK TV in 1991, on
Wayne Dobson
's
A Kind of Magic
.
In 1994, Harary appeared on World's Greatest Magic, together with The Pendragons. One segment saw Charlotte Pendragon assist in the Slicer, dressed in the black feathered costume she normally wore for Metamorphsis.
Effect
An assistant enters an upright box that allows for both of her hands and a foot to be in view. The box is pivoted horizontally and cut into nine sections. The nine sections are pulled apart so that there is clear space between each one. Despite the small sections, both hands and foot continue to move, proving that she is really in the box and still alive. The process is reversed and the assistant emerges unharmed.
Name
Although often referred to as Slicer or Cutting in Ninths, the illusion was originally known as The Janet Box. This name is popularly supposed to arise from Janet Jackson's use of it, but this was not in fact the case. "Janet" was a friend of Haray's and helped with the development of the illusion.
Notable performances
Jennifer Ellison performed the Slicer dressed as a showgirl as part of Raja and Jarett's advertisment for Selfridges.
Holly Willoughby was sliced by Stephen Mulhern on Tricky TV.

Pamela Anderson - Slicer

This was one of the illusions that Pamela Anderson took part in when she assisted Hans Klok in his Las Vegas show. Unlike other versions of the illusion, this was a seven-way division, rather than the more usual nine, and used a tubular, rather than square-section, box.