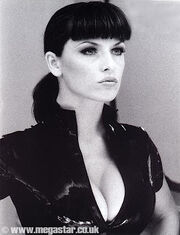 Vanessa Upton (born late 1970s) is a glamour and fetish model, burlesque performer, and go-go dancer from London, England.
She is particularly noted for her fetish modelling, especially of latex, PVC, and rubber wear.
Biography
Edit
Vanesssa has admitted that her fetish interested started early: "While other girls at school where skipping and playing ball, I had a crowd of girls around me in the playground watching me reenact favorite fantasy charactors like She Rah and Wonder Woman. I'd grab a girl from the crowd, tie her up with her skipping rope, then rescue her and play kung fu fight with any boys that got in my way!". As she grew up her passion for fantasy grew more: "I started writing scripts and designing costumes that I was planning to use in the future. Predominantly I wanted to be the bad vixen, but ocasionally the helpless victim depending on my mood."
At age 16 Vanessa was taken on by top london agent Samantha Bond, who quiukly made her a regular on Page Three. Vanessa apeared in numerous pop videos, tv shows, commercials, billboard campaigns, magazines and catwalk shows for people like Agent Provocater and Vivian Westwood. Vanessa also developed a burlesque routine, and was chosen to appear annually at the London and Manchester Erotica Shows, often as the main performer.
In the 1990's she brought her passion for rubber latex outfits to lads mags like Loaded and soon became a fetish icon. Shooting regularly with the late legendery Bob Carlos Clarke, Vanessa developed a more outrageous style in which she wore rubber outfits and made out with the other models in the shoot.
Current Work
Edit
Vanessa continues to be featured regularly in magazines such as FHM, Loaded, Maxim, Bizarre, Front, Biker mag and many more. She shot regularly with Sophie Howard, who has professed to a similar love of latex and PVC clothing, and they were featured in a number of shoots in Front and Bizarre.
Vanessa has a passion for freestyle dancing and toured the country dancing in various shows and clubs from brakedance to rock and drum n base, performing regularly at big events such as Slinky, Gods Kitchen, Carwash, World Dance, Ministry Of Sounds, Homelands, Slamming Vynal etc. Her main love is for breakbeats and rock. Her act often features domination of other well known models and dancers.
Upton has made numerous TV appearances in Londons Burning, Love soup, Alan Partridge, Bo Selecta, The Office and many more.
In 2002 she appeared in an episode of Jo Guest's Capital Exposed, which focused on her burlesque show and featured a less than willing Guest being dominated during a club show. She reprised her appearance for Jo Guest's UK Exposed in 2004.